If you want to do it yourself landscaping, then it doesn't have to cost a lot or be too complex. Anyone who has a creative streak in them can do it at home and transform their garden into something magical!
There are many DIY people with nothing but some few landscaping ideas who have transformed empty or boring backyards or even the front of their homes into a beautiful and functional landscape that is enjoyed by everyone.
Landscaping Ideas For Your Garden
The good part is that you don't have to study any professional landscaping to get good results. There is no need to hire anyone to do this for you as you can do it by yourself if you have the right ideas and the right tools for the job.
Here are some ideas to get you started:
1/ Why not try a small meditative garden in your backyard.

This should have a nice natural or even artificial canopy so that you can meditate quietly without any sun in your eyes. A nice green carpet will create a peaceful environment for relaxation. You could also install a small water fountain to give a nice peaceful sound of trickling water.
2/ You could try some loose stone pathways that wind around the backyard.

This pathway could lead to a barbecue area or a herb garden or a meditative garden. It just needs a bit of interest. You could use mossy stones or smooth stones because these will enhance the beauty of the landscape.  These are just some few landscaping ideas, you could add anything of interest that you think enhances your garden.
Source: https://www.pinterest.com/pin/154529830941089268/
3/ You could try erecting an artificial or natural privacy screen around your pool area if you have one.
Everyone likes their privacy when they are swimming so a nice private screen makes a lot of sense. The most basic screen that you could install is a set of wooden fences. Some may like hedges full of flowers or some bamboo looks good too. You might also use these landscaping ideas for privacy for other areas also; as for the meditative garden,  fellowship area etc. 
Source: http://www.lushome.com
Source: pinterest.com
---
4/ Perennial flowers are beautiful when they are added to your front yard along with a rock garden.
A rock garden is an outdoor space that is accented by the rocks. A lot of homeowners want an old look for their rock gardens and old rocks make the landscape more homier. If you can find rocks with moss growing on them then this looks good. You could add a small fountain in the rocks to add a water feature and give it more interest. You will find endless of landscaping ideas for your garden if you use perennials!

5/ Mini gazebos are very popular if you have enough space for it. Gazebos add that touch of class to any landscape and if you really are a DIY person then this project could keep you busy for weeks. If you buy one that is already done then it usually costs thousands of dollars but if you can do it yourself you could probably do it for hundreds of dollars instead.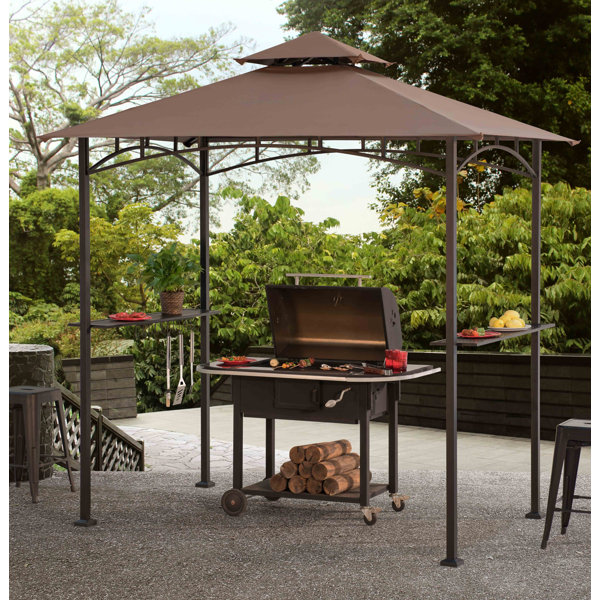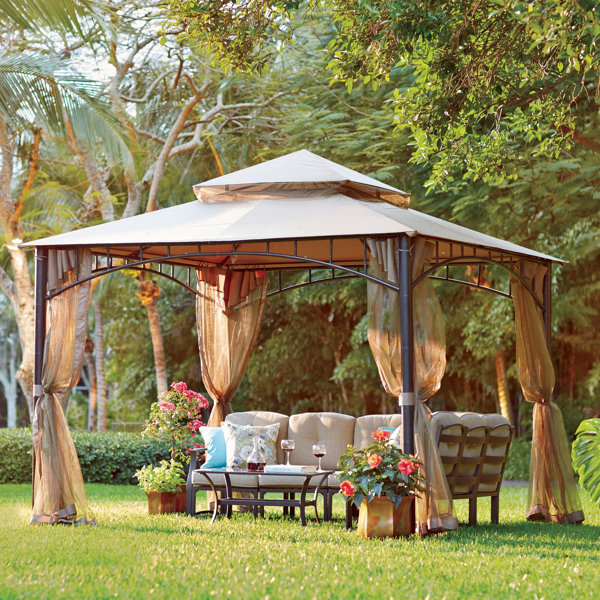 Create Outdoor Rooms
So as you can see, although landscaping does sound very involved and a little confusing to some people, if you really think about it, you will soon realize that landscaping is just like rearranging the inside of your house. Once you start on one project you can be sure that it will make you want to do another. It is a very relaxing way of spending the weekend and who knows where it can lead to. You may one day want to do this on a bigger scale and landscape for your neighbors.
We all have different rooms in our homes and each room has a particular function. The outdoor space is just an extension of your home and operates with the same principles. Now you understand more about landscaping why not put your ideas down on paper and start on your new project!