I have always wanted be winter sowing in order to make the growing season longer, but since I live in the northern part of Europe where we have cold weather half of the year, it seemed hard to me to make that without a heated greenhouse.
Of course, there are vegetables that can manage the winter, like some cabbage, Persil and so on, but I never tried perennial flowers.
But I came across a great article that shows how we actually be winter sowing hardy plants in plastic bags, and I think that is awesome! So read the article and start sowing if you live in an area where it is cold this time a year.
HOW TO WINTER SOW – STEP BY STEP
Step 1: Choose your winter sowing containers – The containers can be made out of items you throw out every day; things like milk jugs, 2 liter bottles, restaurant/deli/bakery food containers, ice cream buckets…etc.
The shape and size of the container doesn't matter, but it must be made of transparent plastic, be deep enough to allow for 2-3 inches of soil in the bottom, and tall enough to allow a few inches of headspace for the seedlings to grow.
Step 2: Prepare the winter sowing containers – To prepare your containers, you will first want to clean the containers. If you're using a tall narrow container like a 2 liter bottle or milk jug, you'll need to cut the container in half using a pair of scissors.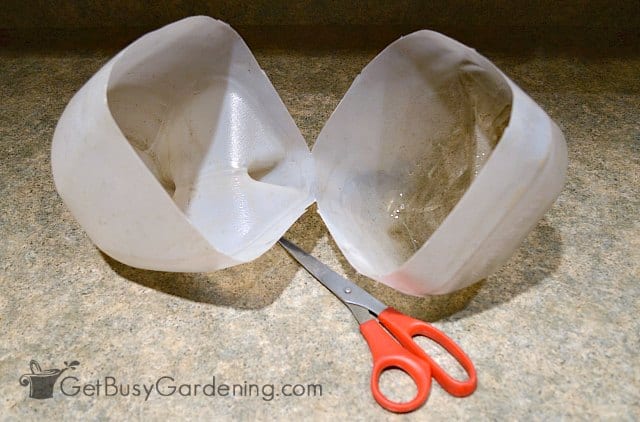 Preparing milk jug for winter seed sowing
Next, poke holes in the top and bottom of the container. Heating a knife and melting the holes makes this task easier (use an old knife because it will turn black over time and have plastic residue on it), otherwise you can use a drill or something sharp to poke the holes.
Read the whole article here: https://getbusygardening.com/winter-sowing-seeds/